Andrés Kudacki (Buenos Aires 1974) is a visual artist with a strong political and social sensibility, who in his creative process explores his deepest emotions based on the life experiences that forged him as a human being and the challenges and difficulties he faces in today's world.
Kudacki's art is catharsis, reflection and provocation. His work evokes and dialogues with a violent and repressive past, an unstable present and an uncertain future with injustices and conflicts that touches him personally
Born into a humble family in the province of Buenos Aires, the Latin American artist developed a very close and emotional bond with painting and the visual arts from a very early age, which has been key to the development of his identity and artistic personality.
Since he was a child, he worked with his father in his painting and lettering workshop in an environment that awakened his creativity and that in turn was a cruel and violent place.
Chaos reigned in his outer world. The paint shop in which he spent much of his time was a rustic, dusty shed, dripping with paint, sprinkled with twisted and rusty nails, sharp sheet metal cuttings, machines and wooden braces.
The military dictatorship had taken power in Argentina in 1976, when Andrés was barely two years old. His parents were threatened and terror was impregnated in his memories.
His paintings return to that simple, turbulent and at the same time stimulating place of childhood, to the same moments of bright colors and concerns with organic contours and at times rigid with colorful and dark environments.
When Andrés was 6 years old, an illness conditioned him physically and led him to take refuge in drawing and chess. The isolation, the metamorphosis of his body, the great break in childhood life and having to deal with pain and suffering, helped him develop his resilience, mature and learn to cultivate patience.   
While he began self-taught photography and eager to tell stories that concerned him, he decided to go to Patagonia to document the aboriginal communities in their struggle for land recovery.
The outbreak of the Argentine crisis in 2001 found him in Europe and Andrés decided not to return to his country. Because he did not have the documentation to legally reside in European territory, he did all kinds of jobs until he was able to settle down and quickly return to dedicating himself to professional photography.
Established in Spain his career as a photographer took off. He worked for important media, and won multiple awards. His solid work on  deep economic and financial crisis that the country went through in 2008 made it stand out in publications and exhibitions.
In the United States, he worked for the most important media in the country and covered the polarization that American society experienced, producing iconic photos of that period. In 2018 he was expelled from the USA and forced to separate from his son, who was barely two years old at the time.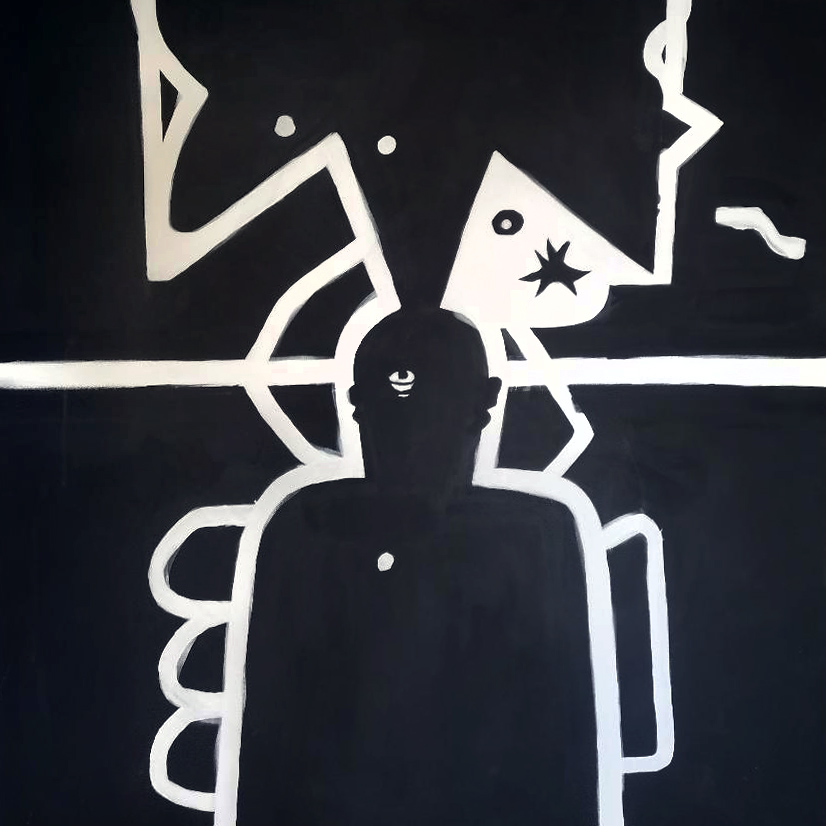 During the last years he lived between Europe and Mexico, where he frequently met his son again. In this period, Andrés turned to painting, reflecting on separation and loneliness. In his paintings he expressed his frustration and impotence in a very crude way through abstract and simple figures. His figures formed by white lines emerge like a thread of life in the middle of the darkness.